Hatkarwadi is a speck on the map in Beed where more than a million people have been hit by drought. Beed is in the province of Maharashtra which is in the country of India. Seeing that there are 1.4 billion Indians, 20% of the world's population, the one million struggling people are barely noticed. Hakardadi is not the only place without water, but it does represent a spiritual phenomena.
Why do people stay where there is no water?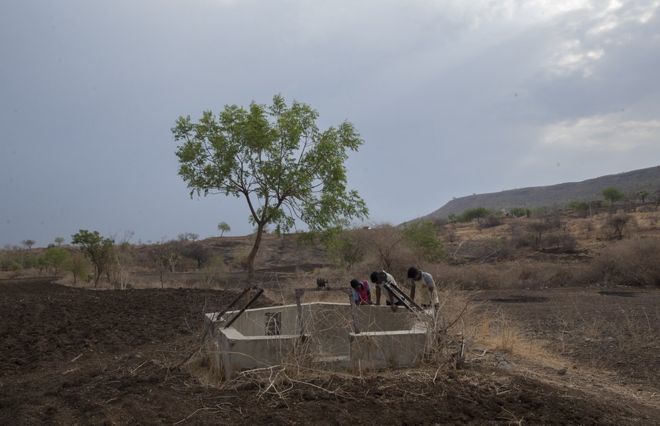 The surrounding area of Beed casts a long shadow of tradition and normalcy bias. Only two of the 35 wells have water left. Farmers dig up to 650ft to extract enough water to grow their meager crops. Food is scarce and the skies are mostly empty. Long interruptions in rainfall combined with the depleted Godavari river has caused a ripple effect in food, farming, and business. Two of the major dams hosts what is called "dead water" which is contaminated with sediments and mud. Even still, the "dead water" is the only thing left. Nearly a thousand tankers transport the water, spiked with chlorine to some 300 thirsty villages.
And yet, people continue to live where there is no water.
Psychologists revert to their default answers when trying to explain why abused people stay in dysfunctional relationships. Business experts also muse why people stay in dead end jobs with no chance of upward mobility.
Most troubling to me is what we know as "The Stagnate Church." This is the place where there are no baptisms of the Holy Spirit or renewal or change. Old natures persist and tradition becomes the constricting mechanism that offers no hope to the hopeless. The Stagnate Church offers minimal worship and no sacrifice. It seeks to fulfill obligation with attenders who seek to appease their church duty. These churches are made up of "religious" people who like to wear shiny crosses, but have no relationship with the bloodied one.
Jesus declared Himself to be the Living Water. Only when we yearn and seek for the flowing river of the Spirit will we find it. While I cannot speak for everyone, I am desperate for a move of the Spirit in our church and in our services. We cannot live in the dry. We were born in the River. Jesus said, John 7:38 He that believeth on me, as the scripture hath said, out of his belly shall flow rivers of living water.
I'm not willing to live where there is no outpouring of the Holy Ghost. I cannot live where there is no water. This must be more than a community endeavor and a social gathering. Our God is not dead and His Water is not stagnate. It must be where the River of Life flows and where the Spirit prevails. If not, then our lives will be wasted in the dry.
Pastor Jeffrey Harpole