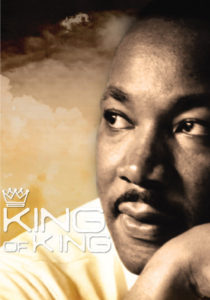 The Civil Rights Movement was and is an important part of the fabric of America. By all accounts, it's premise is based on the Bible's own declarations of love, brotherhood, and unity. Paul was clear when he wrote, Romans 12:5 So we, being many, are one body in Christ, and every one members one of another. The body of Jesus Christ has no divisions or segregations.
While we pause to give honor to Dr. Martin Luther King Jr., we know that there were many others who suffered and stood strong in the face of racism and segregation. Leaders, known and unknown, sought for equality and acceptance. Even still, Dr. King rose above the rest and paid the ultimate sacrifice to preach his message.
It is important that we know that Dr. King was a preacher because modernism and some humanists would like us to think differently. I present this fact, because I believe that Dr. King was good as The King made him to be. His passion, voice, sound, and conviction rose from the depths afforded to him by the King of all Kings. The times in which he lived needed more than just a public speaker. They needed a voice that echoed the Throne of God. Maybe Dr. King would have been revered and admired without the call that lay beneath him. Maybe he would have still been a notable figure in society and history. I believe it was the King of Glory that ushered him into the realm of authority, to speak to the nation and to generations to come. I submit to you, The King of King.
The Psalmist asked,
Psalms 24:8 – 10 Who is this King of glory? The LORD strong and mighty, the LORD mighty in battle. Lift up your heads, O ye gates; even lift them up, ye everlasting
doors; and the King of glory shall come in. Who is this King of glory? The LORD of hosts, he is the King of glory.
John identified him when he saw Him:
Revelation 19:12 – 13 His eyes were as a flame of fire – on his head were many crowns… And he was clothed with a vesture dipped in blood: and his name is
called The Word of God.
Revelation 19:15 – 16 And out of his mouth goeth a sharp sword…And he hath on his vesture and on his thigh a name written, KING OF KINGS, AND LORD OF LORDS.
Pastor Jeffrey Harpole