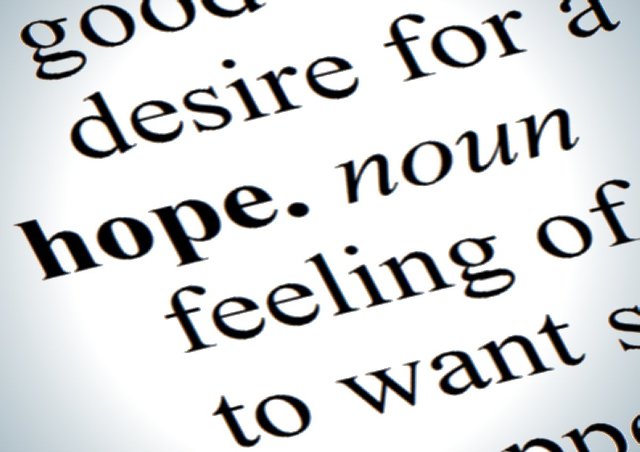 Paul ended his beautiful exhortation about love in I Cor 13 with a declaration of life's most precious things. He listed the three great remaining attributes of life: Faith, Hope, and Love. Love was the greatest among the three as the apostle gave a descriptive discourse, but I offer this word today: Don't discount hope.
Job saw his life as a tree cut down, and yet, he said that there is hope of a tree, that if it is cut down, it can grow again. The patriarchs of old hoped for something and it drove them to pursue the Lord. Peter wrote in
1 Peter 3:15 But sanctify the Lord God in your hearts: and be ready always to give an answer to every man that asketh you a reason of the hope that is in you with meekness and fear. Peter said, "When they ask, be ready to tell them of the reason you have hope." The ability to witness comes from the expectation of something beyond this world.
Even in regards to believing, Hebrews declared that hope is one of the necessary ingredients of Faith: Heb 11:1 Now faith is the substance of things hoped for, the evidence of things not seen.
While the world invests in things that rust and fade, our hope is in the Lord and in His coming. John said as much: 1 John 3:2-3 Beloved, now are we the sons of God, and it doth not yet appear what we shall be: but we know that, when he shall appear, we shall be like him; for we shall see him as he is. And every man that hath this hope in him purifieth himself, even as he is pure.
The hope in the rapture keeps us from an impure world. It drives the believer to live according to the scripture and abandon the world.
We are looking forward to seeing Him as He is! Our expectation does not rest in government, education, health, or money. Our hope is that there is a Heaven and in our Father's House are many mansions. We are seeking for a city whose builder and maker is God; a city where the Lamb is the light. Our hope is literally out of this world. Love? Yes. Faith? It is a must; but I'm still holding on to hope.
Pastor Jeffrey Harpole