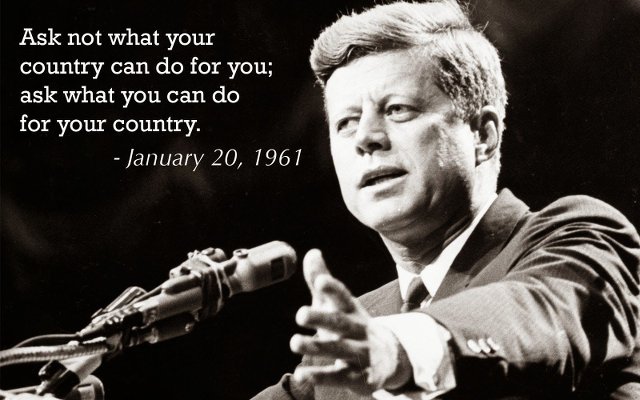 JFK's best quote has been debated for a few decades. I tend to lean toward this one: "Ask not what your country can do for you. Ask what you can do for your country." While Kennedy probably took the quote from a private school professor where he attended, the truth behind the words are profound. The statement is a selfless directive. It rebuts the consumer mentality which has afflicted our age. Jesus lived the life that embodied the idea of selflessness. The disciples' deaths, found in Fox's Book of Martyrs, describe the same. They were not self-seeking or egocentric. They were constantly thinking about the Body, the Church, and the Kingdom. The early church itself had this mentality. They were men and women who did not come to consume or take, but rather came to give. They gave of themselves in every way and mostly in time and in prayer.
Our nation was founded on the same concept. The cost of our freedom was laid on the backs of people who made the ultimate sacrifice. Most of their names lay hidden beneath the plethora of conveniences which we now enjoy. Even today, as we come together to worship, we are standing in a place of liberty, borne out by spiritual men and women. The church exists because of the labor of love wrought by the hands of families and ministries concealed by time and distance.
My great desire is to offer God something that comes at a cost. I hope that you might find the satisfaction in the same. As odd as it might sound to the carnal mind, the more I give of my life to the things of the church, the more thankful I am to be a part of the church. The investment of prayers and fastings, the time and energy given away has only embedded my desire for the things of God. This is our mantra, that the commission of Jesus Christ guides our ambitions. This is our heritage that people died to provide us this great Gospel. This is our desire to be wholly centered on the Lord and let the world go its way.
Pastor Jeffrey Harpole